"Fairy Tales Really Do Come True…" Modern Doll Collectors Convention 2017
With a special convention-exclusive doll by:

September 20-23, 2017
At the
DoubleTree by Hilton Boston North Shore, Danvers Massachusetts
Also featuring events with limited edition dolls created especially for our attendees from:





(Click for a sketch of "Gigi" from Meadow Dolls)

Beverly Stoehr Originals


(Just click on a participant's banner to view their website)
More artists & info coming soon!
Stay tuned to our website, Facebook & Twitter.
Click here to register for MDCC 2017!
Or download the registration flyer from our Downloads page and fax or mail it, as listed.
---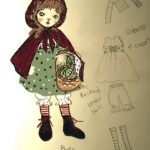 The links for installment payments for Connie Lowe's dinner and Red are now active. Please email registrar@moderndollcollectors.com and let me know if you want a 2 or 3 month installment plan ($300 and $200 a month respectively), or if you want to pay for the doll and dinner in full ($595).
Your place at the dinner with the doll will be reserved once the first payment is received.
Please let me know if you need to register as well.
(there are also more details on this and our other events on our Facebook Page as well).
CANCELLATION POLICY:
Prior to July 1, 2017, cancellation fee is 25%.
From July 1–Aug 1, 2017, cancellation fee is 50%.
After August 1, 2017 no part of registration fee or added-fee events can be refunded unless we are able to sell the souvenir(s) to a party on the wait list at or before the convention. If that occurs, refund will be made, minus 50% cancellation fee, within 30 days of convention end.
No-Shows at commencement of banquet are considered cancellations.
A signed cancellation/refund request must be submitted by mail or FAX.
No email cancellations will be accepted.