#9 Angela Wade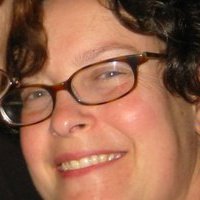 Angela P. Wade has been creating and costuming dolls under the name "Plaid Dragon" since 1987. Her Etsy page can be found at  http://www.etsy.com/shop/angelapwade, and her Yahoo first-to-know group is at http://groups.yahoo.com/group/plaiddragondolls. She also researches and creates historical dolls in the Society for Creative Anachronism under the name Assar Merch Owen.
"Queen Padme"
The Story:
When I heard the theme for this year's FDR was "My Favorite Things," I decided to go ahead and re-create one of the most elegant film costumes of recent years, one worn by Natalie Portman as Queen Padme Amidalla in 1999's "Star Wars I: The Phantom Menace."  Padme's role in the Star Wars saga is that of a hopelessly naive noblewoman who falls in love with the tragically disturbed Anakin Skywalker.  Through the course of the three "prequel" films, they marry, but his descent into total insanity leads him to fatally assault her in "Revenge of the Sith."  He becomes the notorious assassin Darth Vader; she gives birth to Luke Skywalker and Princess Leia, heroes of the original Star Wars trilogy and dies.
The Outfit:
Padme's costume was inspired by the Japanese kimono and Art Deco era beadwork. It consists of: A sleeveless under-gown and stockings of the same material, A second kimono layer of lace over fabric.  The outer kimono of short-pile velvet lined in thin satin. The sleeves are hand-embroidered with cotton floss and beads; the embroidery took two weeks to complete. An obi (sash) in cotton jacquard.  A headdress featuring a hand-beaded panel with hand-beaded fringe. The headdress is made of polymer clay, textured paper, feathers, lace, and beads.
A pair of sandals made of polymer clay. felt, and ribbon.  To foreshadow Padme's tragic murder, her kimono layers are folded in reverse, as if she were being laid out for her funeral.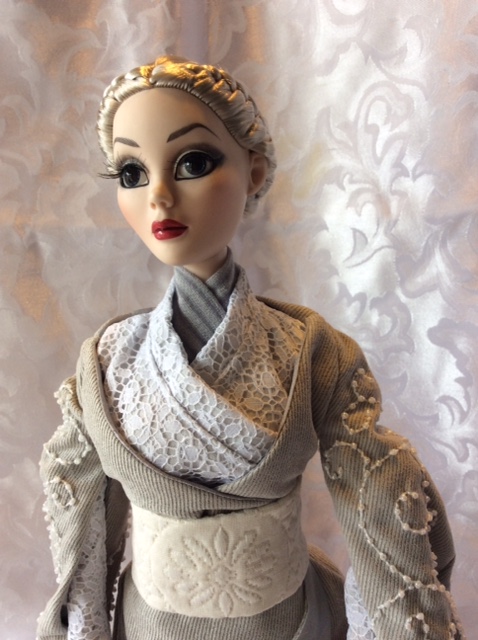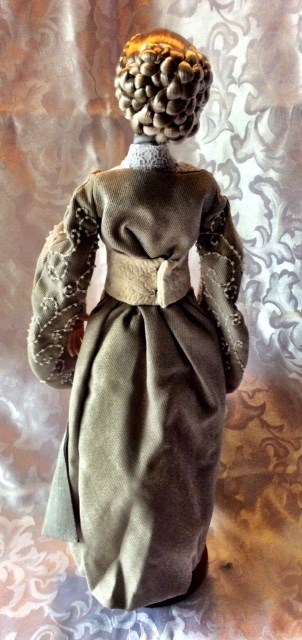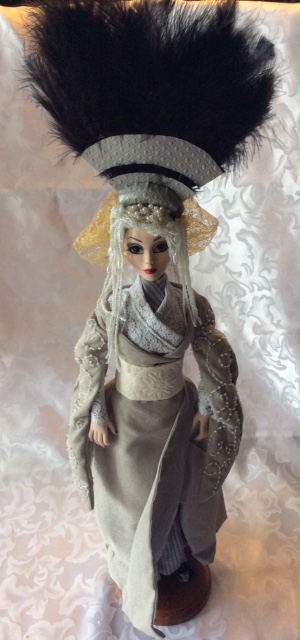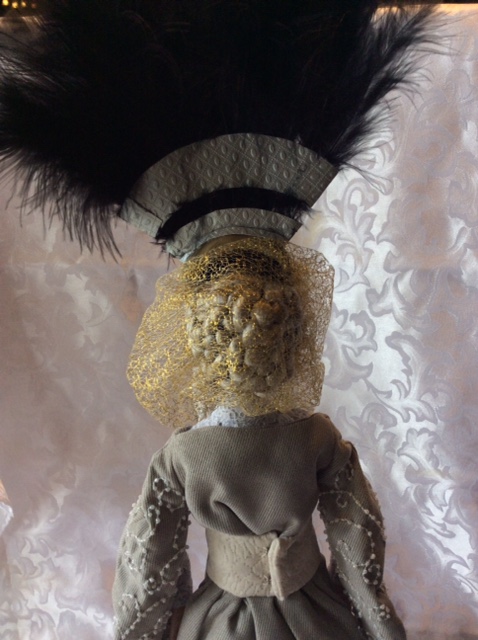 One Comment