Little Darling Fashion Gala Results
2017 Modern Doll Collectors Convention®
"Little Darling Fashion Gala"
"Tell me a Story"
Septe
September 20 – 23, 2017
Double Tree by Hilton Boston North Shore
Danvers, MA
2017 Rules for Entry
The 2017 "Little Darling Fashion Gala" model was the 13-inch smiling Little DarlingTM doll by Diana Effner.
The 2017 theme was "Fairy Tales Really Do Come True."  Each entry included a short (100 words or less) story about a Fairy Tale or Story Book character and  an outfit relating to the story. 
At our 2017 Convention Event, a panel of judges made up of industry professionals and manufacturers considered the entries and awarded First, Second and Third prizes. People's Choice and Board Choice Awards were also presented.
The 12 entries ere auctioned off, raising $8000 for MANNA Worldwide, the charity chosen by Nikki Britt, our convention souvenir doll artist.
---
1 Hilary Leonard
Has been a daughter, sister, schoolgirl, student, wife, mother & grandmother; a good friend, gardener, fund-raiser, profe
ssor, dog rescuer, cancer survivor, doll club member, convention-goer. Sewing is one of her creative outlets.
Little Witch Who Was GOOD
Story: Once upon a time there was a little girl called Cara. Unlike her friends, Cara DIDN'T want to learn dancing, or be a princess. She wanted to wear strange clothes and fly, like pictures in her favorite book. Her friends laughed "Silly Cara, that's a witch! They're bad, and wear nasty black clothes and pointy hats. Who wants that. Cara wondered how they knew. What if she made colorful strange clothes? A witchy hat with a wiggle instead? Found a magic broomstick? Then she would be a GOOD witch, because she was a good girl. So she did. And she was
Costume: Cotton panties, silk divided skirt artsilk-lined, ribbon-trimmed; batiste blouse w/peasant neckline, bead-trimmed tie; bead-trimmed belt w/watch; red cloak, potion bottles pocket; shoulder bag w/house key, tarot cards, water bottle, Grimoire; felt shoes; hat wet-felted from Merino wool and silk – All handmade. Celestial symbols trim is gold-washed. Magic broom
---
2 Summer & Chloe Ziles
A mother & daughter team; both have been sewing most of their lives. It is a family affair, going back to Chloe's great grandma. The outfit on the Diane Effner doll was a collaboration of both Summer and Chloe's sewing and design skills.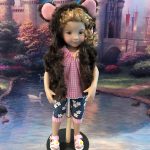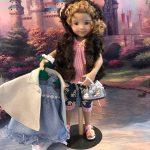 Effie
Story: Effie has always loved the fairytale of Cinderella, her favorite are the mice. Her dream is to go to the father/ daughter dance, but something was always in the way, whether it was an older sister or her dad being gone. This year is her year, she has a beautiful blue dress and found the perfect pair of sparkly silver shoes. Nothing is stopping her this year, even if she has to find a Fairy God mother to drive her there or even if she has to go in her mouse hoodie. The night of the dance, she feels like a princess, which her hair in a side braid and glittery clip. Even her caplet makes her feel so special. The night of just her and her dad, dance and having fun. She just hopes that her dress doesn't turn to rags at midnight, she is sure she can stay up that long.
Costume: Effie's ensemble is a two parts. The first one being a her every day play clothes, with a scalloped peasant top, denim capris, matching hair clip and pink sandals. All of which are embellished with daisies. To top off that outfit she is wearing a fuzzy mouse hoodie. Part two is her dance dress, which is a 2 layered glittery dress with handmade ruffles on the hem and shoulders and silver jeweled belt, white tights, a soft wool lined caplet, silver dance slippers and a hair clip that has the same jewels as the dress. Her hair is a Dutch side braid, that either clip will slip easily in and out of. All seams are finished, and closures are done with snaps for easy on.
---
3 Judy LaManna
"I have been sewing since she was four years old. And ever since I have created more clothes and doll clothes patterns then one can imagine. I have two degrees, the first in Fashion Design and the second in Accounting. I've been a member of MADC since 1982 and a member of Who's Who (1996). Also, I have worked with the Detroit luncheons and Premeirs when necessary. I've chaired the 20+ and 10+ each one time. I have a big love for dolls, sewing, knitting, and quilting. The thing I enjoy most of all is working with our members in workshops, and seeing all my friends at the conventions."
How to Become a Fairy Godmother
Story: This is especially true for this little fairy. She wants so much to become a fairy Godmother but she was too young. The little fairy wanted so much to have the lighted dress that fairy Godmother's had to show the right way to help the person in her care. Her teacher in school kept telling her to do her best as a little fairy conscience, and if she would excel in her current studies that she would, one day, become a fairy Godmother and her beautiful dress would light up. And she then will be a Fairy Godmother. One day as she was working with her current assignment, a young girl who orphaned and living on her Uncle's sheep farm, the little fairy found she was having a hard time convincing the little girl not to run away. But one night the little girl sneaked away from home in the night. She had gotten far enough that she no longer knew where she was. The night noises scared her and she said a prayer promising to go back home, if she could be shown the way. Suddenly, she saw many tiny lights floating in the forest. She followed the lights all the way home. As her charge was lying in her bed safe and sleep, the little Fairy perched beside her reveling in happiness over becoming a true Fairy Godmother. And she remained this little girl's Fairy Godmother all through her life.
Costume: White tulle and Swarovski beaded bodice, makes any little fairy want this dress. The dress has wings that glow in the dark and a full petticoat with lights that illuminate from dark to light. A floral wreath adorns her hair, as she carries a basket of magical fairy dust to spread.
---
4 Sissy Lingle
**Third Place**
Has been sewing since the age of twelve, and sewing for dolls professionally since 1999. She loves stretching her creativity to try new things, so she tried to think of an "untypical" Fairy Tale character. She studied at least 50 photos of yellow cats before painting the stripes.
BOYS CAN LIKE FAIRY TALES, TOO!
Story: Tommy was very upset that his pals were refusing to attend the class's Halloween Party because the theme was "Fairy Tales. They said, "Fairy Tales are for girls!. Tommy got out his favorite story books and found Peter Pan, Captain Hook, Robin Hood and many others to share with his buddies. Soon, all of the boys had thought of costumes. Tommy's choice was his favorite, "Puss in Boots!
His mom worked very hard to make his costume like the photos in Tommy's book. When he tried it on, he said, "Thanks, Mom, this is the best costume ever!
Costume: The outfit is made from hand-painted fleece lined in white knit. The boots, scabbard and baldric are sewn from leather. The faux leather hat and velvet cape are wired for shaping and trimmed with duiponi silk. The metal sword came from England. The ultra-suede nose is removable.
---
5 Marie de Soto
***FIRST PLACE***
Has been a needle artist for nearly 40 years and began working with dolls in 1995. She costumes dolls under the label Sweethreads Design Works and also creates infants, children and bridal designs as Sweethreads Heirloom.
Snow Maiden
Story: Long ago in a remote Russian village there lived a woodcutter and his wife. They were old and had no children. One snowy winter day they built a Snow Maiden. She was beautiful to behold, but as they looked at her, they became sad. "If only God had sent us a little girl to love, whispered the old woman. The whispered prayer flew up to heaven and suddenly the Snow Maiden's eyes twinkled and she became alive! "Hello, dear ones. Would you like to be my parents? she asked. "I will be a good daughter to you and love you all of your days." "You will be the joy of our old age, answered the couple. And they led her from the forest, into their home and into their hearts.
Costume: The Snow Maiden's costume is comprised of a lined under dress of white silk with lace sleeves, an over dress of white French cotton lace and train/headpiece/mask of embroidered cotton organdy. All pieces are embellished with Swarovski crystals. Her removable mask buttons on to the headpiece with 2 tiny pearls.
---
6 Vickie Snead
Lives in northern Virginia. "I have been sewing since I was a child and dolls have always been my favorites to sew for. I do a lot of commission work for doll fashions and also try to make a few to list on my website designsbypic.com."
Little Bo Peep's Stony Sheep
Story: 
Little Bo Peep lost her sheep and didn't know where they'd gone.
She searched and searched and finally found them
So she took them home and turned them to stone
And now she keeps them in a basket
So now they can't roam and always stay home
And she always knows where to find them
Costume: Vickie changed her hair to an auburn wig in braids and painted freckles across her cheeks.
This fashion consists of dress, pinafore, bloomers, bonnet, socks and shoes. There is also a shepherd's staff and a tiny basket of sheep.
---
7 Marian Jasper
Has been sewing and designing since she was a small child. She was a designer for Pittsburgh Originals and her work was featured on the cover of Dolls Magazine and nominated for the Dolls Awards of Excellence. She had a successful line of patterns for 16" fashion dolls and taught workshops at many doll conventions and was a regular contributor to the Gene Scene magazine. You can contact Marian at "stellagrace75@aol.com or Facebook page https://www.facebook.com/marianjasperdesigns/
Big Ambitions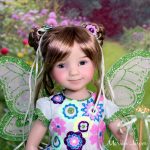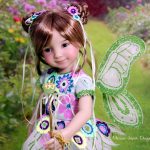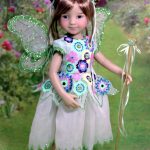 Story: Little Laila Windwhistle is a sweet little flower fairy with big ambitions.  Her aim is to become a fairy godmother when she grows up and will soon be heading to the Academy of Fairy Godmothers very soon. She has been warming up her magic wand, practicing a in the meadow.  Just last week she was successful in turning an acorn into a tiny coach.  She tried lining up some crickets to pull it but they protested somewhat noisily.  She's now in search of a frog to turn into a prince! Uh oh!
Costume: Laila's dress is a true one of a kind.  I hand drew the fabric designs then cut them from glitter fabric and fused them  to silk chiffon. Each color is cut separately then assembled like a puzzle when fusing to the fabric base.. Her silk chiffon wings were made with the same method, her flower ankle circlets and hair accessories were fused  then cut onto the same silk taffeta lining her bodice. She wears matching silk taffeta panties and carries her magic wand built from a dowel and jewelry findings.
---
8 Shara Smith
** SECOND PLACE **
Has been sewing professionally for many years, and enjoy creating both classic and modern designs, specializing in hand smocked and knitted ensembles. She sews mostly for girl & boy dolls such as Effner, Wiggs, My Meadow, Boneka and Kish. Although she does not have a web site, she offers my outfits regularly on doll Face Book/Yahoo sites. Shara can be reached for custom commissions at: smplyshara2@aol.com
Princess Guinevere of Camelot
Story: Young Guinevere has been crowned "Princess of the May this year and will have the honor of placing the first basket of flowers around the Maypole. Everyone is excited as the Merry Month of May begins Carnival in Camelot!
Guiney wonders if that strange boy, Arthur, will attend. He's a funny lad, but they have great fun together imagining that he is the brave, strong king who pulls that old, rusty sword from the huge stone in the center of town and she is his Queen! That would be a fairy tale come true!
Guinevere's costume consists of a crystal pink silk Dupioni gown, smocked in matching floss, trimmed with darker pink rosebuds and pearl beading, underneath an overskirt of embroidered flowers over netting.
Costume:  She wears matching lace trimmed silk pantaloons over sheer tights. Her floral head wreath with streamers and basket of flowers complete her ensemble
---
9 Cee Noel
From Orrville, Ohio is a doll enthusiast since infancy! Sewing is "second nature" since she learned from her Gramma Helen as a child. She's been working in the Information Technology sector since 1968 and retired this February, enjoying more time to play with dolls!
Yasmin, the Perfume Maker
Story: A motherless girl, Yasmin, is schooled in secret by her father, as a Perfume maker (since by law only males could make perfume). Annual competition for the Queen's pleasure, Yasmin enters. But the Queen loses her Memory when she inhales the aroma by a devious enemy. Yasmin has the chance to bring back the Queen's memory and is able to do so – with perfumes of memories. This is a tale of courage and character, shows the enormous power of a person who knows and can remember what is right.
Costume: Undergarment – onesie from knit fabric, golden fibers. Pearl and gold top trimming has snap closure. Gilded Lace adorns the neckline and legs. Sleeveless Underdress is orange and white paisley brocade, gold trimmed ribbon ties a wrap front closure. Outer Court Coat is patchwork of velvet and sheer, lined in paisley brocade. Wrap braided belt hooks to decorative accents. Perfume bottle accessory!
---
10 Janice Walthers
**HONORABLE MENTION **
Is retired and still loves sewing and making yard art; also volunteers a lot.
Ugly Duckling
Story: One dark and stormy night my egg rolled down the hill and was stopped at the edge of a ducks nest.  The Mama duck looked down and pushed my egg into her nest.  After a couple of weeks the eggs began to hatch.  My brothers and sisters were a beautiful yellow color I was very large and clumsy and grey in color.  They quacked and I honked.  All of the barnyard animals started making fun of me.
I set out all alone,  A kind farmer took me in during the Winter months and saved my life.  One day I wondered into a park where I saw the most beautiful birds swimming.  I honked at them and they came close to me.  I looked down and saw my reflection in the water and I looked just like them.
They accepted me into their flock and I lived happily ever after.
Costume: The dress and pantaloons are made of white satin.  They are both trimmed with white lace.  The dress was then covered in white tulle.
I attached by hand white bird feathers each one sewn at the top and bottom of the tulle.
The shoes are made of bright orange felt.
The head piece was made of clay.  This was my first attempt in sculpting.  I saw the head pieces last year and wanted to see if I could make my own.
I hope you enjoy the creative creature I made.
---
11 Helen Skinner
**BOARD CHOICE**
Has enjoyed working and playing in the doll world for four decades. Her career has covered many different venues, starting with Barbie and adding on over the years. Her interest in porcelain and fashion dolls brought a whole new dimension to her love of dolls.
Being a student to some amazing doll artists and teachers throughout her career has helped her change and grow as a doll artist. Wrapping up this lifetime of joy is not easy, but health issues have made the decision for her. The number three sculpt Little Darlings in the auction, and that Helen brought to this event are the very last of this sculpt that will be done by her. Thank you all for all the wonderful support over the years.
Rapunzel, Rapunzel, let down your hair.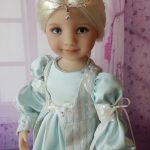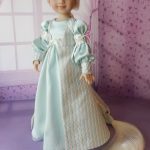 Story: Claimed by a wicked witch, and locked in a tower to remain under her control, the poor maiden spent years in captivity. Her long shining tresses grew and grew. The witch would come to the tower and tell her to let down her hair and climb up to the tower.
A handsome prince traveling by, heard her lovely voice from above. He saw the witch's demand for Rapunzel to let down her hair. He did the same as soon as the witch had gone.
He brought her silk string to made a ladder to escape the tower; but the witch discovered this and destroyed the ladder, and cut off all her beautiful hair. She banished Rapunzel to the woods and waited for the prince to return. When he called to Rapunzel, she let down the hair, and up he climbed. Almost to the top, the witch shouted that he would never find his love. As the prince fell to the ground in surprise, he scratched his eyes on a thorn bush and was blinded. He wandered aimlessly until he heard her voice in the forest, He called to her. She ran to him; and as tears of joy fell into his eyes, he could see again!
The two traveled the world together, she became his Princess bride. They lived happily ever after…..
Costume: Rapunzel is dressed in her Princess finery, and ready to travel the world. Her silk finery includes an empire waist gown with delicate lace trim and long sleeves. The aqua silk chemise matches her delicate plaid overgrown to perfection. Her silver headpiece with fine Austrian crystal and kid leather handmade shoes complete her ensemble.
---
12 Mimi James
**PEOPLES' CHOICE**
Mimi James is 66 years old with less than 5 years of sewing experience. She has 15 grandchildren and lives in Illinois. She re-purposes antique textiles for one of a kind doll clothing. "I'm excited to be part of the Fashion Gala and contribute to the charity MANNA Worldwide." Email: Ladybugpz@gmail.com
The Gift
Story: Great-Grandmother Lily was annoying Gina with vignettes of the past. Gina rolled her eyes as Lily gave her a trunk and key, going on about the dress inside. Gina placated Lily by putting the perfectly fitting dress on and was instantly transported to 1910. An Edwardian girl ran to Gina. "Hi, I'm Tink!" They were instant friends as Gina fell into Edwardian life. When it was time for Gina to return, she asked Tink if that was her real name. Tink embraced Gina and whispered. You know me as Lily. Farewell and love to you my great-granddaughter.
Costume: One-piece dress with attached slip re-purposed from a 1910 baptism gown featuring original heirloom pin-tucks and lace. Bloomers re-purposed from 1920s linen dinner napkin featuring original drawn thread-work and lace.
Stockings made with net and lace, Ribbon sash, hair-bow and boots are all new.
Included: Wig & Key
---
13 Jean Elaine Parfet
Lived in Golden Colorado, and retired to Oracle Arizona with my husband.
We have two adult sons in Colorado. An avid doll collector with diversity of antiques, porcelains, vinyls, and BJD's. Loves the Joy of Conventions, and my favorite hobby of sewing for Dolls.
Ella before her face was smudged with Fireplace Cinders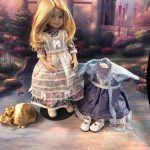 Story: Nine year old Ella, is a bright inquisitive only child of James and Libby Preston. June 25th, 1870 is Ella's Grandmama's 70th birthday, so Ella and her mother having worked all morning in the Rose Garden will be filling their house with their lavish scent they love so much. For the party Ella's hair is up in curls, she in her lavender dress. The twist is the Grandmama gives Ella a gift, her favorite Heart and pearl necklace she wore as a bride. This becomes the happily ever after as it is the same necklace Cinderella wears at her wedding with the Prince 15 years later.
Costume: 2 outfits set in late 1800's, using authentic period piece fabrics. A 4 piece house/yard chores outfit in silk organza and Liberty of London Tana Lawn of petticoat, dress, pinafore, and shawl. For evening, a lavender silk taffeta dress with trimmings of beads and lace.
Acknowledgements: The shawl is knit and donated by Carol Donavon, all other pieces designed and workmanship by Jeanelaine Elizabeth Parfet.
---
14 Sally Simpson
In 1983 Sally May Simpson, made her first cloth doll so that she could make her clothes. It's all about the clothes. She not only designs clothing for dolls but she has gone full circle creatively and enjoys creating cloth doll characters with fabulous wardrobes.
Story: Spring has sprung and everyday brings a new flower in The Secret Garden
Mary Lennox was happier than she had been in a long time. Inspired by the flowers, Mary asked her dressmaker to make a wrap and hat to go with her favorite green polka dot dress. Mary wanted the outfit to be "a wink and a nod to a flower. Mary was hoping her botanical ensemble would catch the eye of her friend Dickon, who helped her bring the Secret Garden back to life. Flowers were not the only thing blooming in the Secret Garden.
Costume: The four-piece ensemble starts with a forest green with light green polka dots dress with puff sleeves and cotton lace accents. The purple wool capelet with scalloped edges is finished by hand with a blanket stitch in coordinating thread. The pink wool barrett hat tops off the flower ensemble. Underneath is a pair of bloomers made with ecru Imperial batiste.
---
15 Julia Christman
Lives in Port Orchard WA. She is 46 and a mother of 1. She learned to sew from her grandmother 35 years ago. She sews for many size dolls under the name SEWGOESIT. This is her second doll fashion contest with a story. Email: Sewgoesit@gmail.com
The Little Fawn
Story: Watching from the woods the fawn dreamed of being human.
Then on the full moon of the equinox a fairy appeared before the fawn.
"Little one, She said, "I have heard the dreams in your head. You wish to be human.
I will grant you this wish. But remember…deep down in your heart you will always be who you are. She turns into a girl and sees there is a ball. She decides to go and see if she likes being human. She went onto the balcony, looking up at the moon, a smile on her face….made her decision.
Costume: 4 Piece outfit plus shoes, necklace, wig and antlers
-Bloomers and Main dress made with Champagne color Charmeuse.
-Tulle petticoat that fastens with eyelet and ribbon.
-Gold and purple beaded lace over dress that fastens in front with snaps
-Wig with magnets under back braid for antlers
-Necklace that ties
---

Reply
My thanks to you, our designers, who so generously donate their time talent and hard work to benefit others.
Patsy Moyer, President, MDCC