# 8 by Judy Williams
Cindy with a Voice like Ella
The Story:
Cindy stared down at the calligraphed vellum card in amazement.  She had no idea how she'd managed to land an invitation to the Cinderella Ball.  The big publicity and charity event sponsored by the producers of Rodgers & Hammerstein's Cinderella would take place tonight.  It was short notice but she just couldn't pass up the chance to rub elbows with cast members, conductors, directors, casting agents– every kind of Broadway big wig imaginable.  Perfect pitch and natural acting ability could only get her so far.  Cindy needed that one defining opportunity that would make the difference between languishing in chorus casting calls and becoming a star.  Tonight could very well change her life.
But what was she going to wear?  The invitation said to come in costume.  Where was she going to get a stunning, gala-worthy gown at this late hour?  By the time she made the trek from Long Island to the City, the best costume shops would all be closed.  Suddenly, there was a loud crash inside the hall closet, followed by a female voice spouting colorful expletives.  As the closet door burst open, Cindy grabbed a fireplace poker and swung it over her head.
"Darn GPS!"  A figure stumbled into the living room.  Half the contents of the closet tumbled out on the floor behind her.  "Sorry about that… haven't gotten the hang of landing yet."  She stood up, straightened her crown and smiled.  Cindy let go of the poker and her mouth dropped open.
"What's the matter?  Haven't you ever seen a fairy godmother before?"  Cindy just shook her head.
"Me neither—until yesterday—but that's another story… I'm Sydney. "   She reached out and pumped Cindy's hand enthusiastically.  "I understand you need a dress for tonight."
"But how did you know?"
"Who do you think got you that invitation in the first place?"  Sydney tapped her wand against the palm of her hand thoughtfully.  "Let's get down to business. "  She waved the wand and suddenly Cindy's casual mini dress was transformed into a pink rococo ball gown, full of ruffles and rhinestones.  The look on Cindy's face was one of pure panic.  "Too much?" Sydney asked.
"You think?!" Cindy replied.  She could hardly speak past the thick ruffled neck piece.  "Can we try something a bit more modern?"  A moment later, Cindy stood in head to toe body hugging leather, trimmed in steel nail heads and yards of zipper.  One wrong move and the slit up the side of the dress would cross the line into indecent.   "Not on your life!" she said resolutely.
"Okay, okay… this isn't Project Runway, ya know… Just give me a sec."  Sydney took a deep breath and raised her wand one more time.  Cindy was caught up in a swirling vortex of sparkling energy.  When it subsided, she was wearing an streamlined lace gown fashioned of gossamer blue-green thread and trimmed in tiny white pearls.  She was delighted!  Before she could say a word, a car horn sounded outside.  Sydney opened the front door to reveal an elegant white stretch limo waiting at the curb.  "Girlfriend, your carriage awaits."
Cindy started to thank her but Sydney waved a hand in dismissal.  "Just go have a good time.  By the way, you know all that stuff about Cinderella turning into a pumpkin at midnight?—Doesn't apply here, " she assured Cindy with a hug.  "Stay out as late as you like."  As the limo sped off toward Manhattan, Cindy knew the future she dreamed of was about to unfold– just like magic!
The outfit:
Cindy's ball gown is fine needlework lace made of blue-green and white perle cotton that has been crocheted completely by hand and trimmed in white seed pearls.  A cotton hoop petticoat supports the line of the gown.   White shoes, fingerless gloves and hair ornament complete the look.
The Artist: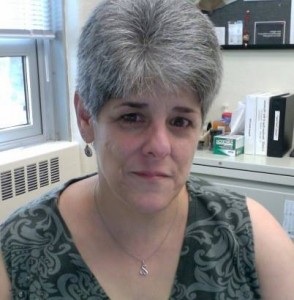 As Designs by Imzodi, Judy Williams has been creating one of a kind jewelry and exclusive thread art fashions for dolls since 1996.  Though her personal collection includes dolls of every shape and size, she admits to a soft spot for little girl & baby dolls.  Her Etsy store is currently under construction.   You can reach her by email at imzodi1958@aol.com

To navigate through the photos, click on the numbers or arrows inside the viewer box.
____________________________________________________________
To view the previous or next entry, or to return to the FDR Main page, use the links below.
2 Comments