#4 by Diana Jenness
Here Comes Suzy Snowflake!
The Story:
Sydney Chase was relaxing in her new home on the beach in sunny Florida when she suddenly found herself sitting in the middle of a very big, very cold snow bank. Next to her was a sign that read "Santa Land, North Pole: This Way".  A path had been dug out of the deep snow.  She followed it to a huge complex of buildings and was soon greeted by Santa and the elves.
"How did I get here?"  She was very confused to find herself in such a strange place.
"It's Magic," one elf replied.  "Christmas Magic."
"But it's only September, much too soon for Christmas," protested Sydney.
"We need your help," explained Santa. "Every year, my sleigh has been losing altitude as we fly over Africa. Last year we nearly ended up stranded in the Sahara Desert. I am thinking that the sugar from the candy canes gums up the power boosting cells on the sleigh runners."
"Hmmm, you may be right about the candy canes," said Sydney. Now it was clear, they needed her because she was an expert in atmospheric-dynamic flight situations. She had just completed her PhD in physics and was about to start a job working at NASA.
"Have you ever thought about the power of snowflakes?" Sydney asked. "Their shape produces energy as they fly through the air.  If I manipulate their structure, they might produce enough energy to power the sleigh."
Sydney got to work immediately in the North Pole's fully equipped lab.  She found that if she rearranged the crystals on the arms of the snowflakes, they would twist and twirl at amazing speeds, producing an icy burst of energy. The next step was to build a converter that could be installed on Santa's sleigh.  It would collect the falling snowflakes and convert them directly to energy. Special cells along the sleigh runners would store the energy for use in warmer areas on the route where snow was not readily available.  The prototype worked beautifully.  Santa's sleigh accelerated with amazing speed on the test runs.
Everyone in Santa Land was so happy with the results, that they gave Sydney a new name–Suzy Snowflake.  Sydney groaned inwardly when she heard the name, but she was happy she helped save Christmas.  All it took was a little hard work and a lot of Magic!
The Outfit:
Sydney is wearing a silk Christmas printed skirt with a matching lined shawl.  Under the skirt is a peasant style chemise that also serves as a blouse.  When Sydney was suddenly transported to the North Pole, she was wearing the chemise that she had borrowed from her Grandmother. The skirt and matching shawl were a gift from Mrs. Santa Claus for helping with the sleigh's power problem. Sydney is also wearing a pair of high boots she found in Santa's office. They were just right for walking about in the deep snow.
The Artist: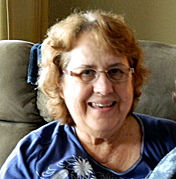 Diana Jenness spent her career as a teacher of kindergarten and first grade.  Her greatest joy was watching children grow and develop.  Her passion for children led naturally to an interest in dolls, then to designing dresses for them.   Now retired, she focuses all her energy on her beautiful grandchildren, as well as doll collecting, cooking, reading, and writing stories for and about children.  She sews extensively for her grandchildren and enjoys learning new sewing techniques.  You can contact Dianna at deeofpl@yahoo.com
To navigate through the photos, click on the numbers or arrows inside the viewer box.
____________________________________________________________
To view the previous or next entry, or to return to the FDR Main page, use the links below.
4 Comments