# 11 by Manny Ferreira
The Magic that Lies Beneath
The Story:
Manny sat at the design table of his studio completely stumped. Usually, he had too many ideas, all clamoring for attention. But this time the fashion muses seemed to have gone on vacation. The deadline for submission to the 2014 MDCC Fashion Doll Runway Competition had already passed. He'd been granted a bit more time, but it wasn't helping. He couldn't seem to come up with a single concept that he actually liked.
His cat, an orange tabby named Mr. Kitty Super Gato, jumped up on the table. "Hey, you know you're not supposed to be in here." Manny tried to keep the studio off limits, but Mr. Kitty couldn't resist the lure of fabric piled everywhere. He particularlty loved tulle, netting and anything sparkly. "Come on." Manny scooped up Mr. Kitty and headed for the kitchen. "Maybe a little lunch will get my brain cells firing."
At that very moment, Sydney was on her way to Lowell, Massachusetts to supply Manny some inspiration. His was the last name on her list and she was anxious to get the deed done and get back to her life. She shifted out of flight mode and came in for a landing. Instantly, she knew something was wrong. Everything around her was gigantic. She was standing on top of a huge work table littered with enormous sewing notions. The pin cushion was as big an ottoman and the pins in it, as long as sabers. As she struggled to make sense of it all, Sydney backed up and hit something. She spun around and was nose to nose with a life size replica of herself! Only this other Sydney was cold, hard plastic.
"Holy smoke! I'm a doll!" Sydney shouted.
She froze when Manny walked out of the kitchen to the front door. He opened the door, looked outside, then closed it again. "Must be hearing things," he said out loud then went back to his lunch. Sydney knew it was just a matter of time before he returned to the studio. She needed a plan and she needed it fast. She couldn't just leave or she'd be a fairy godmother forever. And she couldn't announce herself as she'd done before. That would be way too dangerous.
"Okay, Mr. Kitty." The tabby dropped gracefully from Manny's arms to the floor. "Go keep yourself occupied. I have to work."
Sydney promptly stepped off the edge of the table. Her poofy skirt acted like a parachute bringing her to a soft landing on a big stack of fabric. She rolled off and hid behind it. As soon as Manny was seated at the table, she raised her wand, created a sparkling cloud and sent it drifting toward the unsuspecting designer. He yawned, folded his arms, put his head down and fell fast asleep.
Sydney started back toward the table top, but her skirt was caught. She turned to free herself and found she was being detained by the large paw of a very large cat who was staring at her with bright aqua eyes. "Sorry, Kitty, but I have no time to play." She waved her wand but instead of putting him to sleep, she conjured up the most alluring cat toy she could imagine, gave it a wonderful aroma and sent it flying through the door into the next room. Mr. Kitty released her and set out to find his prize.
Sydney snapped her fingers and was back on the table top. Manny was still fast asleep. She whispered something in his ear and was on her way. A few minutes later, he woke feeling wonderful. An idea had come to him as he slept and he wanted to get started right away. Instead of focusing on a gown, he would use the underpinnings that form a gown's silhouette as the inspiration for his design—exposing the magic that lies beneath!

The Outfit:
Manny's dream comes to life as a black silk taffeta bodysuit with attached ribbon garters and black fishnet stockings.  The skirt is made up of hoops in graduated sizes attached to each other with grosgrain ribbon.  Each hoop is a stip of boning inside a black silk sleeve, embellished with organza ruffle and Swarovski crystals.  Rhinestone earrings and black shoes complete the look.
The Artist: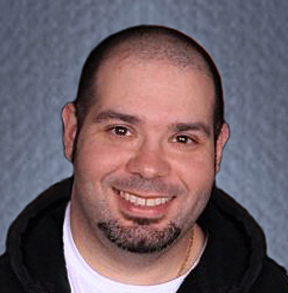 Manny Ferreira is the creative force behind Little Women Fashions.  His love affair with designing for dolls began with Barbie.   He quickly discovered the potential in larger fashion dolls, becoming well known to Cissy collectors for his creative use of color and chic silhouettes.  His current muse and passion is an ever growing collection of Sybarites, 16" resin fashion dolls by Superdoll.   You can email Manny at stsinner2000@gmail.com
To navigate through the photos, click on the numbers or arrows inside the viewer box.
____________________________________________________________
To view the previous or next entry, or to return to the FDR Main page, use the links below.
The epilogue of our Fairy Stories will be revealed in Orlando at MDCC 2014, at the Fashion Doll Runway Competition & Charity Event, Thursday September 11th at 9:00 pm.  We will post it online with the results of the competition, so stay tuned!
One Comment