# 10 by Marie deSoto
Pearl, a Small Town Girl
The Story:
Born on a working cattle ranch in central Texas, by the time she was 18, Pearl could ride, rope, brand and mend fence as well as any of her four big brothers. Her Nordic heritage had granted her height, grace and natural beauty. But that beauty was often hidden beneath layers of Texas dust and the wide, sweat stained brim of her Stetson. Glamorous was not a word anyone would have used to describe Pearl. But inside this hard working cowgirl was a chic, elegant young woman whose time had come. Her four brothers were the first to notice and they would need a little help to convince their sister to step out and believe in magic…
A steady rain was falling by the time Pearl finished repairing several broken sections of barbed wire along the ranch's western border. She loaded the tools into her saddle bags and was pulling off her thick leather work gloves when she heard a voice calling to her. She looked out over the plain and saw someone running toward her, arms flailing frantically. Pearl mounted her horse and rode toward the figure. As she got closer, her curiosity turned into amazement. The figure appeared to be a wayward fairy godmother, soaked to the skin and full of mud.
"I'm glad you think this is funny!" the fairy shouted as Pearl covered her own mouth to keep from laughing out loud. "I've been looking for you for hours. Well?" she added after a moment. "Are you going to help me up or do I walk all the way back?" She shook her magic wand. "I'd zap us there, but this darn thing doesn't seem to work in the rain."
The ride back took nearly an hour. Sydney used the time to introduce herself and explain why she had come to Texas. Pearl was skeptical. "But I don't need a fairy godmother." They'd reached the house by then, passing two ranch hands and the cook along the way. No one seemed to notice Sydney.
"Maybe, but those issues of Marie Claire under your bed and the lock box full of Mary Kay in the closet aren't going to get you where you want to go."
"Shhhhh!" Pearl quickly closed her bedroom door. "If my brothers find out I'll never hear the end of it!"
"Too late." Sydney's wand had dried out. With one zap, she was sparkling and poofy again. "They're the ones who summoned me—more or less. For years you've been busting your bunnies to keep up with the boys. Now they want you to experience your feminine side in a big way." She snapped her fingers and a glossy flyer appeared in Pearl's hand. "It's a competition called Small Town Girl. Basically, you need to be under 21, gorgeous and come from a town with a population of less than 25,000." Sydney lifted Pearl's chin and examined her face. "I'd say, unless they're counting the cows as population, you got this in the bag!"
"But the submission deadline has already passed."
"The boys sent in the application months ago. I didn't have anything to do with that." Sydney braced her hands on her hips. "Look, in five minutes four crazed cowboys are going to come charging through the front door with a letter that says you've been chosen as a finalist. What are you going to do about it?"
Pearl took a deep breath. She'd be going to New York for the final round. If she won, she'd get to travel all over the world to be photographed. It was an opportunity beyond her wildest dreams. But she needed to establish one thing before excitement got the better of her. "I don't want to win because of magic. That just wouldn't be right."
"That part is all on you," Sydney assured her. "I had nothing to do with you getting in, and I'll have nothing to do with you winning. Wanna see what you're going to wear in the finale?" She pointed to the mirror.
Pearl gasped. Her reflection wore a dress of delicate pink silk and vintage ivory lace—the perfect mixture of old and new. The vision dissolved away and she heard four sets of cowboy boots come bounding up the stairs.
"Gotta go!" Sydney began to disappear. "Don't forget to act surprised!"
"I won't—and thank you!" A moment later her brothers burst into the room. Pearl would always remember the look on their faces. It was nothing short of magic!

The Outfit:
Pearl's face has been re-imagined using artist grade acrylics in soft tones of cream, pink and gray.  She is wearing a vintage inspired design rendered in silk and French heirloom lace.  The fitted underdress is cream silk taffeta.  The overdress has a loosely fitted bodice of pink silk chiffon with an ivory lace midriff.  The skirt's multiple layers of pink organza edged with lace create a graduated translucent effect.  Below the dropped waist, the skirt is pleated and hand smocked with ivory silk thread and tiny pearl seed beads.  Pearl jewelry and pink ankle strap shoes complete the look.
The Artist: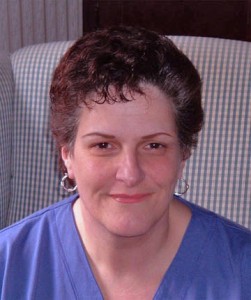 Marie deSoto began creating for dolls as Uncommon Threads & Fashionable Faces in 1995. This year, her doll label was renamed Sweethreads Design Works.   Inspired by a love of history and the characters behind the clothes, she considers herself more costumer than fashion designer. This is her fourth Fashion Doll Runway competition with MDCC.    Marie's doll designs & how-to articles have appeared in Doll Collector magazine.  She also designs one of a kind heirloom garments for infants and children as Sweethreads Heirloom.
You can visit her studio on the web at www.sweethreads.com and on Facebook at  Sweethreads Design Works or Sweethreads Heirloom.
To navigate through the photos, click on the numbers or arrows inside the viewer box.
____________________________________________________________
To view the previous or next entry, or to return to the FDR Main page, use the links below.
2 Comments