#1 by Janice Walthers
The Show Must Go On
The Story:
"Has anyone seen Giorgio the Great?"  Stella asked, "It's almost show time and he's nowhere to be found."  One of the clowns replied, "He ran away with Tillie the Tightrope Walker to get married.  They are long gone by now!"  Ten minutes later, Stella stepped out on the carnival's makeshift stage and looked out at the audience.  What was she to do?  Oh well, the show must go on…
"Hello." Her voice was so soft, the folks in the first row strained to hear her. She cleared her throat and began again.  "Good evening.  I am Stella the Stunning, assistant to Georgio the Great.  Due to circumstances beyond our control, Giorgio is unable to be with us tonight.  I don't know all of his secrets, but I'll do my best to entertain you."
Stella waved the magic wand over a shabby black top hat that sat inverted on a small table. "Alla ca zib!" She reached into the hat.  Instead of the beautiful silk scarves that should have appeared, she pulled out toilet paper.  Darn!  What was that magic word?  "Let's try again," she said nervously.  "Alla ca zoo!"  Instead of a cute fuzzy bunny, a zebra stuck his head out of the hat then promptly retreated.  Half the audience chuckled; the other half groaned.
Stella took a deep breath.  Okay… one more time.  "Abracadabra!" She waved the wand above her head with all her might.  Suddenly her dress was ablaze with light.  The audience gasped, then applauded with delight. No one was more surprised than Stella.  As she turned in a slow circle, the lights twinkled and grew even brighter.  How in the world…?  Stella smiled.  It's Magic after all!
The Outfit:
The off the shoulder gown is made of chartreuse embroidered chiffon with a flower and ribbon design.  It has metallic threads and sequins to embellish the pattern. Stella's head piece and hand bag are made from different motifs from the dress fabric, as is the trim on her shoes. Her earrings and necklace are hand strung chartreuse glass beads. The lining of the dress is a double layer of satin between which is sewn a fine wire string of lights with an attached battery pack.  Her hair is styled into small braids which are combined into loops and tucked under a layer of straight curls.
The Artist: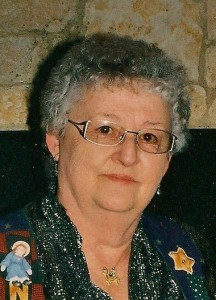 Janice Walthers been retired for over two years.  She keeps busy volunteering for community agencies such as Citizens Patrol & Community Emergency Response. Janice sews for charities that make pillowcases for an orphanage in So. Africa & recycle police uniforms.  She is an avid gardener of hybrid iris & roses and has over 200 rose bushes.  But her favorite pastimes are serving as President of the Richardson Doll Club, collecting and dressing dolls and attending doll conventions. On occasion, she also does repaint work to enhance her costumes. You can contact Janice at   jwalthers5@yahoo.com
To navigate through the photos, click on the numbers or arrows inside the viewer box.
____________________________________________________________
To view the previous or next entry, or to return to the FDR Main page, use the links below.
3 Comments