2017 Workshops
It is recommended that students bring battery-powered clip-on or small plug-in lights, and/or magnifiers if they feel they might need extra light and magnification to complete their workshop projects.
Wednesday, September 20th, 2017
Steampunk Hat Class, presented by Pat Moulton
9:00 a.m. – 12:00 p.m.
I will demonstrate how to create a steampunk hat with step by step instructions. Each student will get a hat and brim plus many accessories to create their own hat. They will also receive a hat box and written instructions.  Some sewing is required though this is a beginning level project.  Each student will receive a steampunk necklace
Cost: W-1 –- $55.00
Students should bring: small Scissors.
Maximum number of students: 20
Making Hangers for Doll Dresses, presented by Betty Lubbert
4:00 p.m. – 6:00 p.m.
Workshop includes all the supplies to make 24 little hangers. Wire, wooden form, 5inch dowel stick. Each Student will also receive a handmade wooden rack to hang their dresses. The Rack will be unfinished. I will have stain and sponge brushes for staining the racks (optional). (In addition, each student will receive a gift of a surprise kit to make for their dolls. There is no additional charge added for these kits.)
Cost: W-2 — $25.00

Students should bring: Materials will be provided
---
Thursday, September 21st, 2016
Wacky Witch Hat, presented by Jean Stanton
8:00 a.m. – 9:30 a.m.
Class will construct the felt hat which is sized for size 6" to 8" doll head. All materials will be supplied. This includes felt, premade bow, needle and thread. Construction is simple hand sewing.
 
Cost: W-3 — $30.00

Students should bring: Materials will be provided

Maximum number of students: 30
Hats and Headbands, presented by Nellie Valentino and Lana Dobbs
8:00 a.m. – 11:00 a.m.
This is a 2 part workshop.
Part 1: Nelly will bring hats to display and demonstrate using the hat forms she recently designed for the popular 13 inch dolls. She will show techniques for shaping straw as well as wool felt hats using the forms.
Part 2: Lana Dobbs will lead the class showing various styles of head band decorations. Student will choose from several choices of kits to complete 2 head bands. Supplies including beads, glitter, ribbon, etc. will be provided. Techniques to be demonstrated will be custom dyed or colored silk ribbon and making paper flowers and a quick and easy bead technique.
Cost: W-4 — $75.00
Students should bring: scissors
Maximum number of students: 20
OOAK Doll Stands, presented by Nancy Choate and Deborah Bruton
2:00 p.m. –5:00 p.m.
You will make an original doll stand with accessories for your 5" to 12" doll. All supplies are provided, just bring your doll and be ready to have fun!
Cost: W-5 — $26.00
Students should bring: Materials will be provided
Maximum number of students: 25
Sleeping Beauty Just Awake, presented by Claudia Hillesheim of Boneka
2:00 p.m. –5:00 p.m.
We will embellish a finished dress with ribbon roses, beads and felt leaves
Claudia will teach to make various flowers with taffeta ribbon.
Students are free to arrange the flowers and leaves like they want.
There will be different samples to give an idea of various arrangements.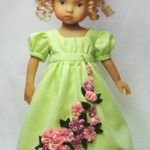 Kit includes: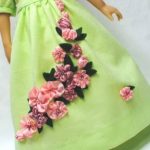 Instruction
1 finished long dress (regency style)
Ribbons in different width and 2 different pink colors
12 green wool felt flowers small
12 green wool felt flowers big
Beads in various pink shades
Sewing thread
Cost: W-6 — $75.00
Students should bring: Small Eyed needle for beading Scissors Optional embroidery thread.
Maximum number of students: 12
Friday, September 23rd, 2015
Eyewear for Your Doll, presented by Dianna Effner
9:00 a.m. to 12:00 p.m.
Students will color glaze and assemble 2 pair of glasses. We will offer kits with choice of various styles and colors of frames. We will provide supplies for completing the glasses.
Cost: W-7 — $70.00
Students should bring: magnifiers if needed
Maximum number of students: 20
Making Dolly H'uggs Boots, presented by Sissy Lingle
2:00 p.m. to 5:00 p.m.Sissy Lingle will guide you to complete a pair of doll boots from faux suede/sherpa fabric. A simple whip stitch is the only sewing necessary. Participants will be given a choice of several colors of boot fabric. Written and pictorial directions with patterns for boots for many 10" to 14" dolls will be provided. Special glue for attaching the many different trims will be included.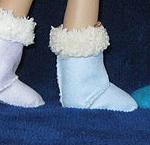 Cost: W-8– $45.00
Students should bring: Sharp scissors, simple sewing kit and a doll.
Maximum number of students: 20